Here is a recipe for busy day soup:
Ingredients:
1 pound ground beef
1 onion, diced
1 cup diced carrots
1 cup diced celery
1 (14.5 oz) can diced tomatoes
1 (15 oz) can tomato sauce
1 (15 oz) can kidney beans, drained and rinsed
1 (15 oz) can corn, drained
4 cups beef broth
1 tsp salt
1 tsp black pepper
1 tsp garlic powder
1 tsp onion powder
1 tsp dried basil
1 tsp dried oregano
1/2 tsp dried thyme
1/2 cup uncooked small pasta (such as macaroni or ditalini)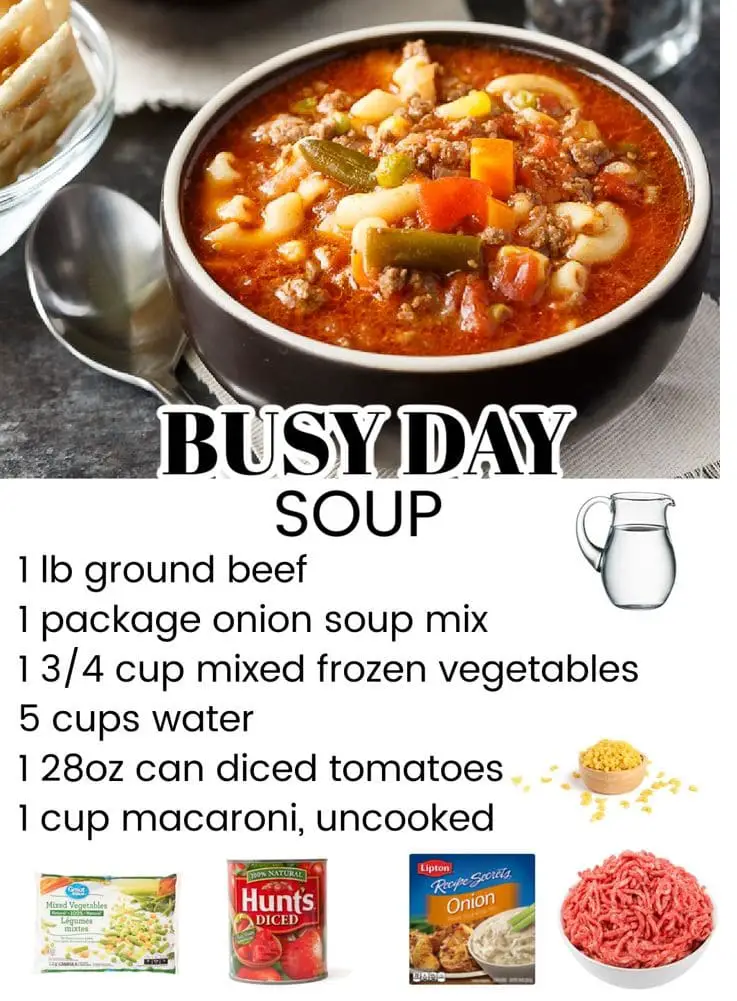 Instructions:
In a large pot or Dutch oven, cook the ground beef over medium heat until it is browned and crumbled.
Add the onions, carrots, and celery to the pot and cook for an additional 5 minutes, or until the vegetables are softened.
Add the diced tomatoes, tomato sauce, kidney beans, corn, beef broth, salt, pepper, garlic powder, onion powder, basil, oregano, and thyme to the pot. Stir to combine.
Bring the soup to a boil, then reduce the heat to low and simmer for 10-15 minutes, or until the vegetables are tender.
Add the uncooked pasta to the pot and simmer for an additional 10-15 minutes, or until the pasta is cooked through.
Serve the soup hot, garnished with additional black pepper or chopped fresh herbs, if desired. Enjoy!