Instant Pot Buffalo Chicken Soup can be topped with crumbled blue cheese, and this can warm up your tummy when the weather is cold! And this delicious soup recipe is low-carb, Keto, and gluten-free!
INGREDIENTS
1 medium onion chopped small
2 cups chopped celery, chopped small
1 T olive oil
1 tsp. dried thyme
1 tsp. garlic powder
4 boneless, skinless chicken breasts, trimmed and cut into lengthwise strips
1/4 cup Frank's Red Hot Sauce (Use more or less to taste, but remember you can always add more at the table.)
4 cups chicken broth or homemade chicken stock
4 oz. cream cheese, cut into small cubes
1/2 cup crumbled blue cheese, plus more for serving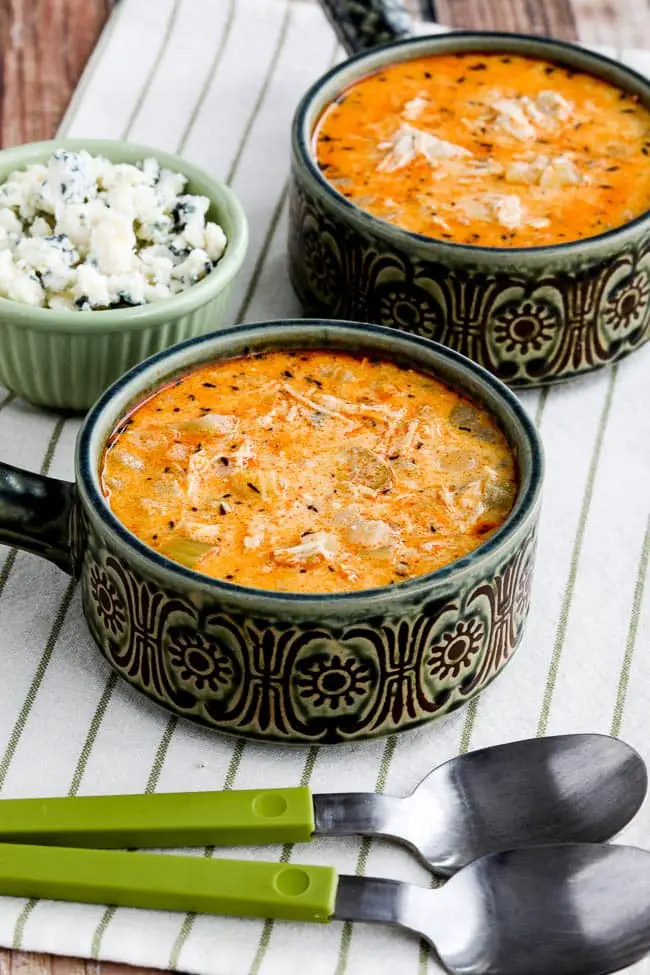 INSTRUCTIONS
Chop the onion and celery. Heat the oil in the Instant Pot, using the Saute setting with medium heat.
Add the chopped onion and celery and cook until they're starting to soften, about 5 minutes.
Add the thyme and garlic powder and cook a minute or two longer. (I would use ground thyme, or if you have a spice grinder (affiliate link) or a mortar and pestle (affiliate link) I would grind the thyme.)
While the veggies cook, trim the chicken and cut into lengthwise strips.
Add the chicken strips, Frank's Red Hot Sauce (affiliate link), and chicken stock to the Instant Pot.
Lock the lid and set Instant Pot to MANUAL/HIGH PRESSURE for 15 minutes.
After 15 minutes, use NATURAL PRESSURE RELEASE for 10 minutes, then quick release the rest of the pressure.
While the soup cooks, crumble the blue cheese and cut the cream cheese into small cubes.
Use a slotted spoon (affiliate link) to remove the chicken to a cutting board and shred apart (or cut if you prefer chunks.)
After the pressure has released and you've removed the chicken to a cutting board, add the two cheeses to the Instant Pot and let them melt while you shred the chicken apart.
When cheeses have melted, whisk soup together, then add the shredded chicken back into the soup. (You can heat it for a minute or two using the Saute setting if needed, but it will probably still be pretty hot.)
Serve soup hot, with extra crumbled blue cheese and Frank's Red Hot Sauce to add at the table if desired.