This is an easy recipe with tons of great flavor! A perfect weeknight meal for busy families.
Ingredients
2

 

lbs

 

roasted asparagus

2

 

large

 

Yukon Gold potatoes, about 4 cups diced

 

chopped into ½" dice

1/2

 

onion chopped

2

 

stalks celery chopped

1

 

clove

 

garlic

 

minced

3

 

slices

 

of bacon

1/2

 

cup

 

grated Parmesan cheese

 

or a rind Parmesan cheese

4

 

cups

 

chicken stock or broth

1/2

 

tsp

 

each salt & pepper for roasting asparagus

2

 

tbsp

 

olive oil

3/4

 

tsp

 

salt

 

optional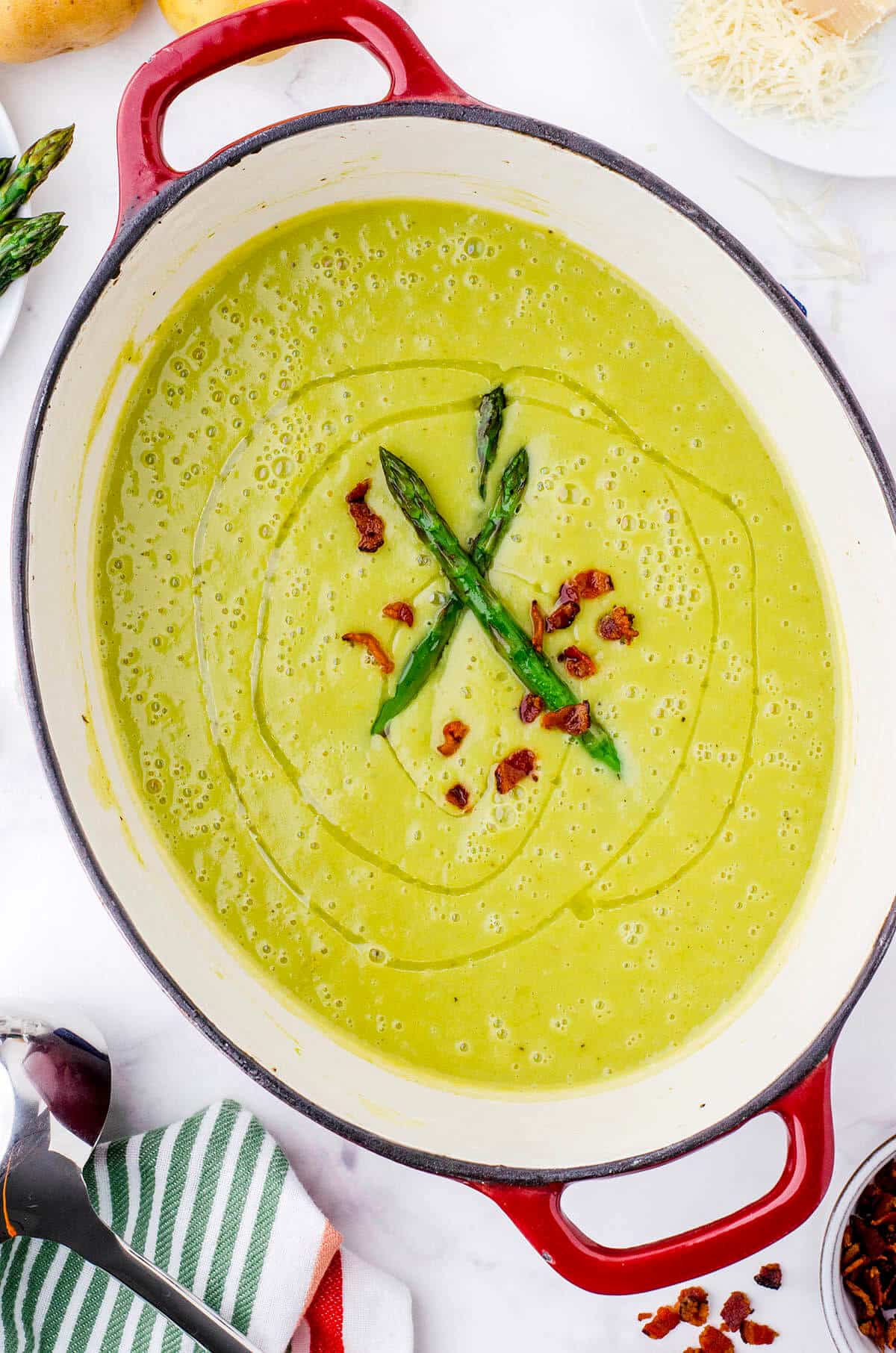 Instructions
Preheat the oven to 375 degrees

Start by roasting the asparagus – snap off the woody ends and reserve for vegetable stock or another use. Lay the asparagus spears on a cookie sheet and drizzle with 2 tablespoons olive oil, sprinkle with salt & pepper. Put in the preheated oven for 15 minute. Remove from oven, allow to cool. When cool, cut into ¼" pieces.

While the asparagus is cooking, brown the bacon in a large stockpot over medium heat. Remove when crispy, reserving the drippings.

Next, add the potatoes, onions, celery and Parmesan cheese rind (if using shredded parmesan add this after adding the stock) and season with black pepper. Cook the vegetables for about 5 minutes, they will be slightly browned.

Add in the stock and about ¾ of the chopped asparagus. (Reserve adding salt and remaining asparagus until the end of the cooking process.) Increase the heat and bring it to a boil. Reduce it to a simmer and continue cooking until the potatoes are fork tender, about 15 minutes. Turn off the heat.

Remove the remains of the Parmesan rind (it's job is done!) If you're using shredded parmesan, add it now and stir until incorporated.

Using an immersion blender or stand blender, cream asparagus soup until it is smooth and velvety.

When the consistency is to your liking, taste & adjust seasonings, add salt if needed.

Garnish with reserved asparagus tips and bacon crumbles. A drizzle of good olive oil adds so much flavor!
Notes
You can also use a food processor to cream the soup.
Nutrition
Calories: 
167
kcal
 | 
Carbohydrates: 
8
g
 | 
Protein: 
8
g
 | 
Fat: 
11
g
 | 
Saturated Fat: 
3
g
 | 
Cholesterol: 
14
mg
 | 
Sodium: 
1272
mg
 | 
Potassium: 
510
mg
 | 
Fiber: 
3
g
 | 
Sugar: 
3
g
 | 
Vitamin A: 
1275
IU
 | 
Vitamin C: 
20.7
mg
 | 
Calcium: 
146
mg
 | 
Iron: 
3.7
mg